Why NaijaBet?
The sports betting company carries out its operation in Nigeria per the 2005 National Lottery Act. Therefore, its services are legit, and players should not worry when transacting with this bookmaker. Naija Bet is an impressive bookmaker for sports fanatics and casino players. It has an excellent sportsbook, casino section, pools and casino games. The website has a great design making it convenient even for new punters.
NaijaBet Registration
The registration process is simple and straightforward.
The first step is to load the official website on your browser.
Hit on the join now button present on the upper section of the homepage. It directs you to a page with a registration form.
Fill in your details including your name, mobile number, email address, date of birth and home address. Additionally, come up with a username that you will be used in logging in together with a password.
Once you are through with entering the mandatory details, there is a box on the lower section of the page. Tap on it to confirm that you are a human and not a robot.
Read, accept and agree to the terms and conditions by clicking on the box at the right bottom of the same page.
Click on the register now button. The system sends an activation link to the email address you provided. You have to log in to your email and click on the link to activate your account.
Welcome Bonus
Unfortunately, new players have nothing to receive as a welcome offer to NaijaBet. It is a bonus that you are likely to find on almost all bookmakers in Nigeria. As the site continues to proliferate, perhaps they will think of introducing an enticing bonus up registration. Nonetheless, existing players are subject to several lucrative bonus offers.
Naija Bet Mobile App
At the time of this writing, the mobile application available from Naija Bet is compatible with Android devices. If you own a smartphone, you can download the app by accessing the website on your browser. The download tab is present on the lower section of the webpage.
NaijaBet mobile app has exceptional features including live score, multi-bet option, payment options, real-time updates, scheduled games, latest odds etc. Besides, Naija bet caters for other mobile users through the mobile version of their site. You can access it by clicking on the mobi button on the upper section of the homepage. At the top of your device, you can find the main sports and live bet features.
NaijaBet Sportsbook
The sports section in this bookie has more than 20 sports, including basketball, tennis, soccer, motorsports and boxing. You can find them in the menu running vertically on the left section of the home page.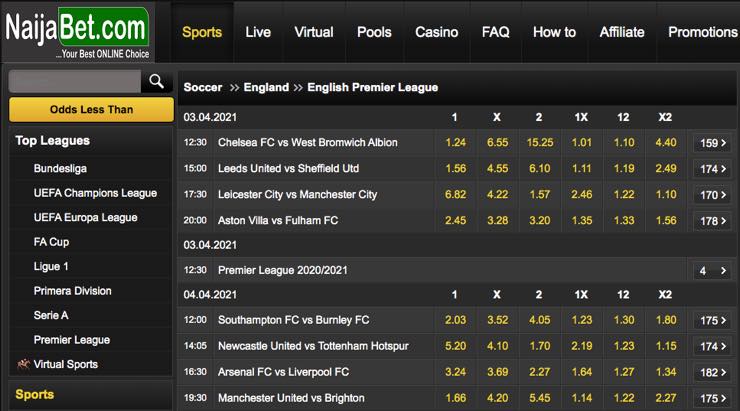 If you are accessing the platform through the mobile site, you can find the list of sports on a menu running horizontally on the upper section of the page.
There is an outright section in the sportsbook that allows players to stake on outcomes of a whole league or competition instead of single matches. There are numerous outright options in sports present in this bookie including tennis, cricket, golf, water polo, motorsports, basketball, beach soccer and handball.
For the sake of soccer punters, this bookie has different leagues including La Liga, English Premier League, Champions League and Serie A. In short, for any football match that you would like to stake on, this bookmaker has it.
Live Betting
This bookie has one of kind live betting service, particularly in soccer. Therefore, it is quite popular among Nigerian bettors whose majority are soccer enthusiasts. You can wager on different options at any point as the match plays. The popular options include scores betting and match results where you forecast on the possibilities such as team to get the next score, correct score etc.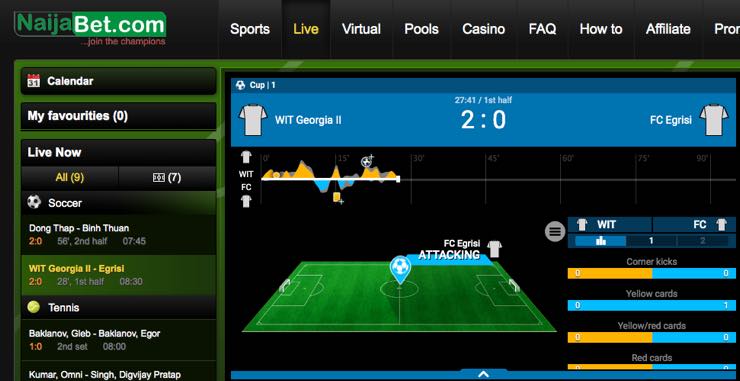 Niajabet offers competitive odds in live betting, and of course, they keep changing as the match progresses. Therefore, if you feel that prematch betting is emptying your pockets, you can try live bets. Those with expertise in the analysis of live matches cans also consider this section and bag some decent cash on NaijaBet.
The live betting section comprises of major world leagues ad less popular ones too. The bookie does not restrict live betting on football alone. Punters can place live bets on other sports too including ice hockey, basketball and tennis.
Live betting is increasingly becoming popular among Nigerian bettors. The live occasions are present on the left section of the live page while live graphic displays in the middle of the screen.
Besides, punters can see the scheduled occasions available for in-play betting on the calendar feature present on the left section of the home page. NaijaBet allows live punters to be responsible for their winnings through the cash-out feature. Although live streaming is not present at the time of this writing, there is a match track feature that offers a visual reference to players for live betting.
Virtual Games
Like live betting, the popularity of virtual sports is on the rise among Nigerian bettors. NaijaBet has a great virtual gaming section. You can play games such as platinum hounds, dashing derby and football.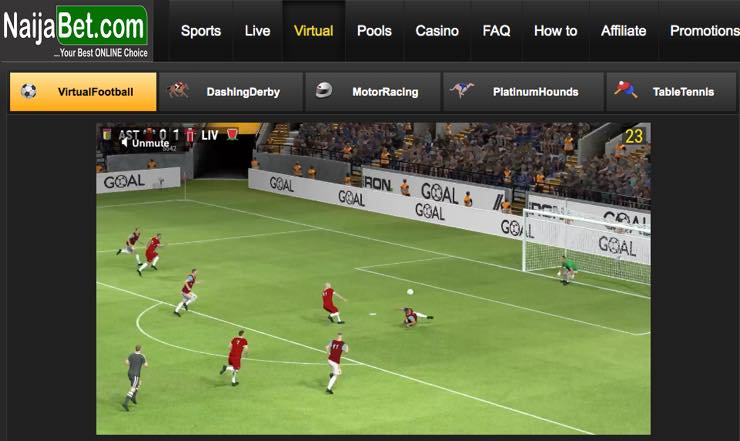 Virtual games usually take less time than real-life matches around 2-3 minutes, unlike a soccer match that goes for more than 90 minutes. Therefore, virtual sports betting allow punters to make money very quickly. It is possible to finish an entire league in an hour.
Pools 
NaijaBet has pool games where punters can make lucrative amounts and also win jackpots.
Casino
This bookie has a casino section. Gone are the times when players only had the option to walk to a brick and mortar casino in town. Today, you can have similar experience in your home ad at the comfort of your palm.
The games present in the online casino include Secret Elixir, Book of Ra, Plenty of Twenty, Fruit Sensation etc.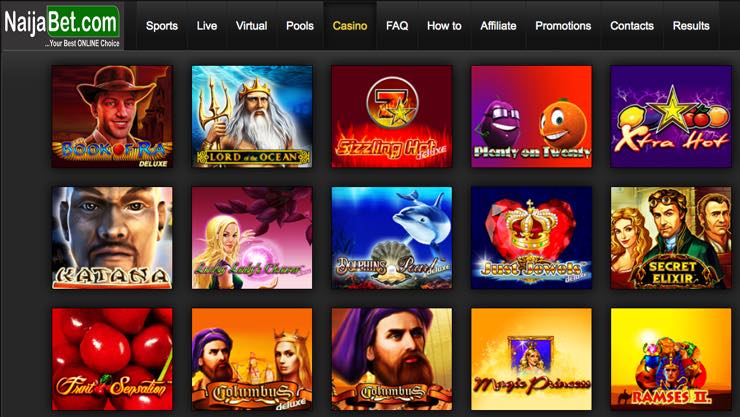 No More Loss Bonus
No more loss is a great risk reduction strategy for Nijabet punters. The feature allows you to get part of your winning when one of the outcomes fails to occur as predicted. The eligibility criteria involve making up with a combination of ten games in your best slip where each has odds of at least 1.10. In case one of the selected games cuts, this bookie still pays you.
You can determine the amount of the pay as 10% of the amount you would receive divide by the game whose outcome was not as expected and less 10% of the stake. Punters can stake a maximum of 1000 per slip and up to 5000 in a month. The offer is available for all markets and sports but not for free bonus and stake credits.
NaijaBet League Booster
The punters of this promotion can benefits from it, anytime they cash in at least 1000 Nairas to their account. NaijaBet credits their account with an additional 10% of the deposit as free bet credits to a maximum of 10,000.
Cashout
Punters in this bookie do not have to shiver even if they are losing on a bet. They have the chance to count their winnings at any time and anywhere. When you stake with NaijaBet, it defines the odds that corresponds with your first withdrawal. Provided the selected market continue to be active, it is possible to withdraw part of your money. the probability of the chosen outcome when cashing out determined the cash out amount.
Take, for example, when the probability of your bet was 50% at the start, but decreases to 30% at the time of cash out, your amount will be less than your stake. The scenario is the opposite if the probability of the chosen bet is 50% but increases to 90% when cashing out. In the second case, the bet amount will be almost equivalent to the potential payout.
Therefore, if you realize that several predictions are successful, but there are one or two teams that could fail you, you have the chance to cash out your winnings. NaijaBet credits your account with the amount available during cash out.
How to play NaijaBet?
This bookie is among the best in Nigeria, allowing plyers to stake with a small amount of as little as 100 Nairas. The exciting aspect is that there is no upper limit on the amount of stake you can wager. This bookie has a vast portfolio of bets. Popular soccer markets include match odds, over/under. Double chance, both teams to score and correct score.
Which are the most popular sports to place bets?
Like most sports betting sites in the country, Nairabet focuses more on soccer and covers major leagues and other contests ion the world. Punters can find popular leagues such as Germany, Spain, France, Italy, England and the champion's leagues. Besides, they can also bet on El Salvador and Gibraltar.
NaijaBet has diverse and extensive betting options where you can bet on goals, match results, handicap, chance mix, winning margins, corners etc. Besides, soccer dominates the outright options of the sports betting section, including the special bets.
The mega combo is a bet builder feature present in this bookie and allows punters to incorporate different markets into a single bet. For example, it is possible to create a mega combo on Liverpool vs Manchester city by integrating the number of goals, match result, goalscorers, corners and cards into a single bet. The feature is right on the main menu. There is also the Nairabet Colossus feature that allows you to pocket lucrative amounts with a relatively smaller bet amount.
Punters can play the colossus alone or join a group. In such a case, your winnings are a percentage of the contribution you make to the group. Tap the colossus table present on the menu on the left of the page to go to this option.
Apart from soccer, there are other popular sports in this bookie, including tennis, ice hockey, basketball and volleyball. In fact, the site has a room for any gambling enthusiast. There is an event on politics too, both at local and international level. Unfortunately, this bookie does not offer events to do with celebrities.
Naija Bet Odds
NaijaBet has fairer odds compared to other sports betting sites in Nigeria. Besides, the bookie has gone beyond the national level, particularly on soccer odds and is thus competing with international bookmakers.
This sports betting site has an extensive market with more than 21 different sports from famous ones such as tennis, football and basketball to the less popular including handball, alpine skiing and chess.
The English Premier League can have over 250 betting markets. In comparison, championship can have more than 170 markets, and those include the handicap, BTTS, over/under and standard 1X2/ the casino enthusiasts can find over 55 casino games. The bookie does not forget the virtual games too. All the markets have great odds for punters.
How to deposit and withdraw?
NaijaBet supports numerous payment options including ATM cards, Interswitch Debit cards and wire transfer in case of worldwide deposits. The banking options include Fidelity Bank, Zenith Bank, UBA, FCMB, GTBank and First bank.
Punters can fund their account with a minimum amount of 100 Nairas. The upper limit on deposit depends on the client's transaction limit in a day.
GT Bank
You can use this method to fund your account automatically.
Dial *737*50*AMOUNT*46# with a number registered with GTBank.
Fill in your reference ID.
Input the last four digits present in your debit card (GTBank) and move on to make your payments. Your receipt reflects on your bookmaker's account once the transaction is successful.
Card Payment
1.     Access your account.
2.     Select the deposit fund and choose GTPay or Fidelity Pay Gate.
3.     Fill in the amount you wish to deposit
4.     Choose your payment option which could be Visa, MasterCard or Interswitch.
5.     Fill in your card details.
6.     Confirm the transaction
7.     Check your account status.
Bank Transfer
1.     Check the official website www.naijabet.com for bank account details.
2.     Send your payments directly to your bookmaker's account.
3.     Login to your account
4.     Tap deposit fund and select bank transfer
5.     Fill in your deposit information and submit.
At that point, the admin should confirm the deposit once the payment reads in their bank account.
M-Cash
You require your phone to fund your account through this option. The number you are using must be the same one you provided to your bookmaker's account and chosen bank.
1.     Dial *402*77000999*Amount you want to deposit# using your phone number.
2.     Choose your bank and the account you wish to debit
3.     Fill in the date of birth in the format you provided in your bank account.
4.     Create a secret PIN to use when completing payment transactions.
5.     After completing the transaction successfully, a notification appears on the screen as the funds read automatically on your bookmaker's account.
How to withdraw?
It is not possible to withdraw the amount you fund to your account unless you stake with it and cash out the winnings. Punters can cash out as little as 500 Nairas and as high as one million Nairas in a day.
The payouts processed within 24 hours, and that is only during business days. Therefore, the bookie does not process payouts on weekends and public holidays.
Mobile App Review
Punters in Nigeria and across the world are increasingly embracing the use of their mobile devices in betting. It is convenient and allows the players to get sports updates faster. NaijaBet recognizes the importance of a mobile application and thus came up with one. NaijaBet app allows bettors to access the bookie's homepage a design that resembles the desktop website. The mobile application has a lot of features giving users an enjoyable betting experience.
The interface is easy to navigate, and players do not have to strain as the white fonts have a contrasting dark background. A green logo is present on the upper section of the homepage.
The app loads quickly and makes it easy to place prematch and live bets that keep changing. However, the mobile app is only compatible with Android devices. But there is hope that NaijaBet will unveil one for the Apple users in the future.
NaijaBet Customer Cary
Customer support is critical in any sports betting site. Issues keep arising among punters and require the assistance of the customer support team. Before, the players can move to contact the staffs at NaijaBet; they can check the Frequently Asked Questions section first. It has the answers on subjects such as banking information, rules, privacy, sports etc.
Besides, players can get more information by accessing the How To link present in the main menu on the upper section of the homepage. You can find information on how to fund your account and the type of bets available.
If the two does not offer you a complete solution, you can contact the support team by sending an email to [email protected] Another option is to write to them through their address which is 21, Irona Atikankan Road, Ado-Ekiti. Additionally, there is an online contact form present on the website where you enter your name, email address and your query. Hit the submit button and wait for the reply. Finally, you can contact the bookie through telephone lines0706-343-7475 or 0818-5800-374.
Why open account on NaijaBet?
NaijaBet has an impressive platform with features that allows a flawless betting experience. Besides, it has competitive odds thus punters have a guarantee of pocketing substantial amounts on their winnings.
The bookies have an extensive sportsbook with more than 20 sports. Football enthusiasts who happen to be the majority in Nigeria enjoy the many leagues available in this sports betting site. Besides, players who wish to have a taste of the online casino can play the numerous casino games present in this bookmaker.
Conclusion
NaijaBet is on a path of firming its foundation in the Africa betting scene. The bookie has great opportunities for existing punters. The website may not be that modern compared to other bookmakers in Nigeria. However, both the application and desktop version are easily navigable and suitable for punters looking for fast processes, including bet placement and payments. The major downside of this bookie at the time of this review is the lack of welcome bonus to its new players.
FAQ
What is the minimum withdrawal amount from NaijaBet account?
The minimum amount you can withdraw from NaijaBet is 500 Nairas.
Do NaijaBet customers receive pay cut one?
Punters are eligible for pay cut one provided their game selection has up to ten games with each having odds of at least 1.10.
Is NaijaBet a reliable sports betting site?
NaijaBet is among the most reliable bookmaker in Nigeria. It's mobile, and desktop platforms provide robust performance. It has been in the industry for several years and is a member of the Nigerian Association of bookmakers.
How can I reset my password?
In case you forget your password or wish to change it, NaijaBet allows you to do so. Tap the forget password link present near the login fields. Enter your email address. The bookie will send a link to reset the password on your email.
Can I open three different accounts at NaijaBet?
NaijaBet allow customers to create only a single account for one player and IP address.
How quick are the payouts at NaijaBet?
Punters at NaijaBet receive their payouts in 24 hours after sending their withdrawal request.
Can I receive my payout on weekends?
The payouts processed within 24 hours, and that is only during business days. Therefore, the bookie does not process payouts on weekends and public holidays.
Are there charges on withdrawal and deposits?
It is free to fund your NaijaBet account through direct bank transfer and ATM card. If you deposit through USSD, you have to account for the Interswitch charges of 20 Nairas. Withdrawal processes are free.
Can I bet on my mobile?
NaijaBet has a mobile application compatible with Android devices. Other mobile users can use the mobile site.
Is it possible to edit my profile data?
You cannot modify details such as name, address, username and date of birth. However, you can change your password and email address.