MerryBet claims that this site is where the "Champions" play. We are not in dispute of this, but we are hoping that this review will allow you to make your own mind up about the site. MerryBet is a very attractive sports book with an easy-on-the-eye palette of orange and various shades of grey. It is a site that seems to promise much but does it deliver? This is what this review aims to find out!
Facts and Figures

There's plenty to do at MerryBet and plenty that is on offer too. The main attraction is football (or soccer as most Nigerians may prefer to call it) but you'll always find good deals on tennis, basketball and US sports as well.
Speaking of good deals, the number one deal new bettors at the MerryBet site are likely to be interested in is any form of welcome bonus or promotion for newbies. We are sad to report that if your prime reason for signing up with a new site is to obtain a welcome deal then you are going to be disappointed here. There is no welcome offer for new members.
However, that should not for one moment put you off from signing up at MerryBet. There are plenty of interesting aspects of this site that will be of benefit to you, whether you are a newcomer to the site or not. We will tell you all about the many brilliant deals available later on in this review.
Is MerryBet a Reliable Betting Site?

Regulation and licensing is key at any online sports book, and you should never, ever use an online sports book that does not have the required licensing and regulation. We are happy to report that you are fine at MerryBet as the site is regulated by the Lagos State Lotteries Board.
Just to add to your levels of reassurance about this site, MerryBet also has a very clear Privacy Policy that you can read if you want to know how the site deals with the information that you pass to it. The site says it takes 'reasonable' steps to keep your information secure, but it does not say exactly how. If would be better if MerryBet explained the levels of encryption it uses. In any case, we are confident that you will be able to use the MerryBet site safely and securely.
MerryBet Bonus Offers

If we described all the offers available at MerryBet this review would simply go on forever and you would soon get bored. Instead, we are going to describe what we think as of the most attractive.
First up is the Colossus Bet. This is a football/soccer prediction game in which you need to pick a certain number of available games to select. You can choose the '1X2' prediction game or the correct score game. You win more with the correct score game, but of course correct scores are harder to predict. Some prizes are in excess of NGN 1,000,000, and if you really want to give yourself the best chance of winning you can join a betting syndicate for any single game.
The Punters League is another great way of winning cash and to add a little bit of interest to your sports betting. You can join in the weekly competition by placing bets at the site and earning prediction points. The more bets you win, the more points you acquire. You can check your progress on the leader board at any time, and if you finish the week in one of the top positions, you win cash and prize, including brand new iPhones!
When you sign up at MerryBet you really need to keep abreast of all the brilliant goodness that is available, else there's the sad chance that you might miss out on something!
How to Register and Create an Account at MerryBet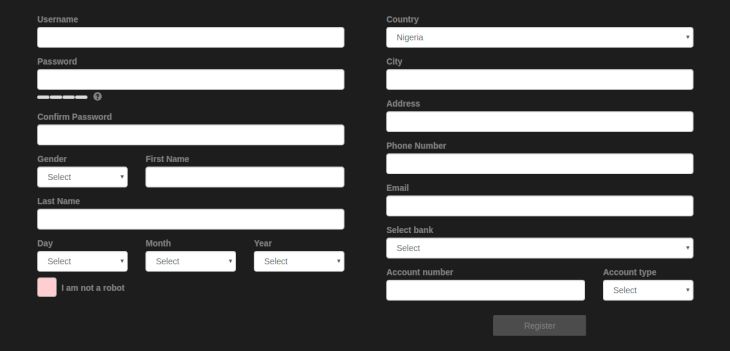 Creating your account at MerryBet is really easy, and here is how you go about it:
Go to the site's main page and find the orange 'Register' button
Fill in all your information. You will need to fill in a chosen username and password, your gender, first name, last name, birthday, country of residence, city of residence, address, phone number, email address, your bank, your account number and your account type.
Once you have filled everything in click the 'Register' button
That's it!
Congratulations! You are now a registered user of the MerryBet Nigeria sports book.
MerryBet is more than a Betting site: Virtual Sports and Mini Games!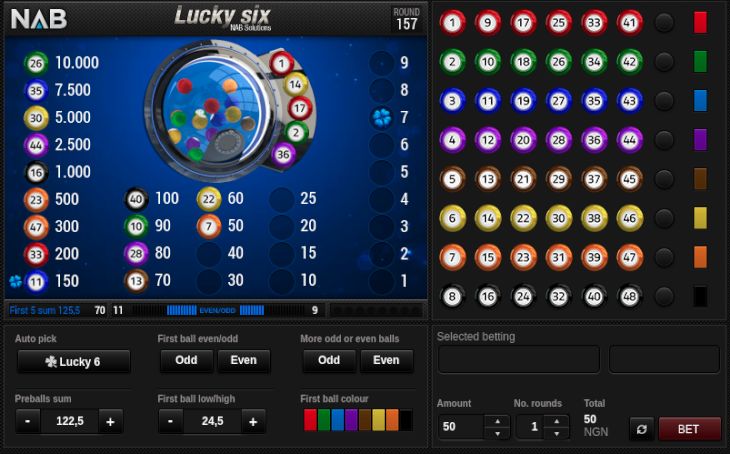 It's fair to say that MerryBet has a fair number of virtual sports options. In fact, it is fair to say that MerryBet has more virtual sports options than any other sports book in the known universe, never mind Nigeria! If you love to bet frequently but can't wait for the next round of real-world betting opportunities to arise, then you can pop across to one of the many virtual betting sites that MerryBet has available, as follows:
Virtuals: This section has four football sections (Euro Cup, Nation Cup, League Mode and League) plus basketball, tennis, horse racing and greyhounds.
Golden Race: Here you will find football, greyhounds, horses, speedway and motorbikes.
1X2 Games: 1X2 Gaming is a global gambling software brand that has created many great virtual sports and online casino games. The virtual sports section at MerryBet has Soccer, World Cup, Champions, African Cup, Euros 2016 and Europa League (all football) and Rugby.
Global Bet: This section has football, greyhounds, horse racing, camel racing, supercars, speedway and tennis.
1X2Games and Global Bet both provide mini casino games at the MerryBet sports betting site too. With Global Bet, you can play 'Color-Color' which is a very basic lottery game, and 'Spin&Win' which is an equally basic roulette game.
1X2Games' offerings are much, much better. You can play arcade games like Race the Ace, Bingo and Darts 180, plus slots such as Treasure of the Pyramids, Piggy Bank and Gods of Olympus. There's also roulette, craps, video poker, casino poker, scratch cards and blackjack. The offerings are rounded up by a series of dice games including six shooter, sharp shooter and sic bo.
How to Deposit and Withdraw at MerryBet

Getting money into and out of your account at MerryBet should not be too much of an issue, as there are many ways you can fund your wagering. If you get stuck and want to sort matters out over the phone, then you can ring MerryBet on 0814 719 6465 for deposits, and 0816 638 2000 for payouts.
Paydirect: You can go to your bank and fill in a deposit slip to transfer money to your MerryBet account. Don't forget to include your Customer ID which is available via the website. Currently, MerryBet accepts bank transfers from Access Bank, Eco Bank, Enterprise Bank, Fidelity Bank, First Bank, Heritage Bank, Stanbic IBTC Bank, Sterling Bank, Union Bank, UBA and Zenith Bank.
Card: You can use a GlobalPay, Visa or MasterCard credit card in order to make a deposit.
ATM: If you have an Interswitch, Verve or MasterCard ATM card, then you can use these cards to make deposits via the site or via an ATM using the 'Quickteller' 'Pay Bill' service. Please follow the instructions online at the MerryBet site if you want to successfully make an ATM deposit.
GTBank Collections: If you have access to internet banking, then you can transfer funds to your MerryBet account.
Shop Credit or Agent: If you have a MerryBet agent close to where you live, you can hand them cash which they will then transfer into your MerryBet account as long as you follow the correct procedure.
Please be aware that all these methods are only ways in which you can get money into your MerryBet account for sports betting purposes. The ONLY way you can get money out of your account is by transfer to your bank account, which is why you are required to select and register a bank account when you join the site. You can make your withdrawals directly from MerryBet, or you can call the customer care team who will be happy to help you.
Mobile App for Android or iPhone

There are two mobile choices for sports bettors at MerryBet who want to 'bet on the go'. You can choose the smartphone or tablet site, or the lite mobile size if you have a mobile phone that only has a small screen. Both sites are fully optimised to enhance your betting experience to the full.
You have no requirement to download an app to use either MerryBet mobile site. Just open your internet browser and navigate your way to the site as you would on desktop. The site will recognise that you are browsing from a mobile browser and will tailor your experience as needs be.
If you do happen to find yourself stuck on the desktop site when using a mobile just click on the 'mobile' link and choose the kind of site (mobile or lite mobile) that you actually desire.
Frequently Asked Questions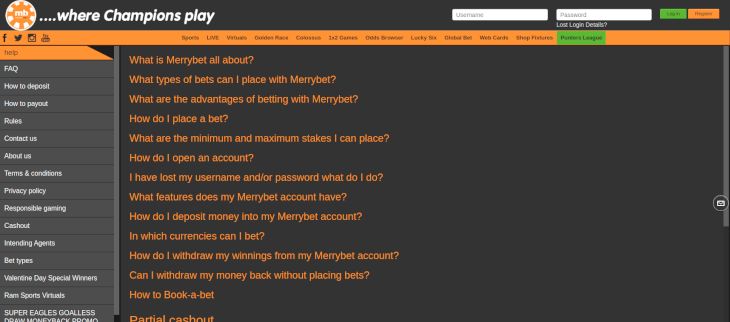 Q. How does MerryBet work?
MerryBet is a fully licensed and regulated site suitable for secure online sports betting. All markets and events are offered via a smart software platform that processes all wagering requests automatically. Once an event is over all related bets are settled automatically and payouts processed to successful accounts.
In case of user difficulties, the site has a number of customer care numbers that can be contacted in order to resolve any issues or enquiries.
Q. Which sports and events are offered for betting by MerryBet?
The main sport offered for betting by MerryBet is football (soccer). There are also a high number of markets for tennis, basketball and US Sports. The full list is as follows: Football (soccer), tennis, basketball, ice hockey, handball, volleyball, baseball, motorsport, rugby, cycling, American football, boxing, MMA, golf, cricket, beach volleyball, beach soccer, Aussie rules, snooker, darts, pesapallo, sailing and winter sports. MerryBet is also one of the few sports books in Nigeria that offers betting options on eSports such as League of Legends and Dota.
Q. How do you place a bet at MerryBet?
Once you have registered at MerryBet you can place a bet by searching the list of markets for any event that you might be interested in. Once you have found your event, just click on the price of the outcome you want to wager upon, which will then be added to your bet slip. If you want to bet on a single event, add the amount you want to wager, then 'Place Bet'. If you click 'Book-A-Bet'  this will give you the booking code for the event. You can then phone in this bet using the betting code.
If you want to place multiples just keep adding events to your slip before you add the amount that you want to wager.
Pros and Cons
Pros
Plenty of markets covered
An endless array of virtual sports options
Multiple banking options and very good customer care services
Cons
No SMS betting
Can only withdraw to a bank account
Overall Rating of MerryBet
Over the past few years, NairaBet and Bet9ja have ruled the roost on sports betting in Nigeria. Well, the rise of MerryBet should get those big guns quaking in their boots! This sports betting site really is the mutt's nuts, and even includes a forum where you can get in touch with the customer care team and discuss betting matters with your fellow MerryBet Nigeria sports bettors.
The site is really good for football/soccer, and those prediction competitions are really worth getting involved with as you can win yourself quite a stash of cash if you are an ace predictor!
Sign up today for your MerryBet account for a merry betting experience!