If there is one thing that is certain when it comes to sports books in Nigeria, it's that they all seem to like to brag about brilliant they are. LionsBet is no exception to this rule, as it calls itself the 'Kings' Arena'. Whether royalty would bet here is a question that needs an answer, and this review is aimed to at least provide some kind of answer to that conundrum!
LionsBet certainly is the kind of site that's going to get most sports betting fans a little hot under the collar at least. It's a very effective-looking site in colours chosen, we guess, to match the colours of the Nigerian international soccer team. However, something that looks good on the surface may not be all that brilliant beneath, so this review will aim to really get under the bonnet and see what makes LionsBet actually tick.
Facts and Figures

Let's get the most important fact out of the way right now. The question most sports bettors ask when uncovering a new online sports book is whether the site has a welcome bonus. Well, the great news at LionsBet is that it does! In fact (and here's some even better news) the site actually has three welcome bonuses, as follows:
1stdeposit bonus – 100% up to NGN 100,000
2nddeposit bonus – 50% up to NGN 100,000
3rddeposit bonus – 25% up to NGN 100,000
The rules regarding each bonus are the same. Before you can cash out you need to wager on an acca including five events or more with individual odds of 1.5 or above for the entire bonus amount. Also, you need to rollover your bonus seven times once you have met this initial wagering condition. You must also complete all rollover requirements within thirty days of your bonus being awarded.
All the information regarding bonuses and what you need to acquire one, and what you need to do once you have managed to acquire one can be found under the 'Promotions' tab at the site.
Is LionsBet a Reliable Betting Site?

If you are a regular sports bettor then you know that you need to be wary of bogus web sites that are simply designed to steal your money from you. You get the distinct impression immediately from the LionsBet site that this is not a site designed to fool you, but you can never be too sure. You can be sure here though as the site has licensing from the Lagos State Lotteries Board.
Of course proper licensing is only half the story at any gambling site. As well as proper licensing a site needs to make sure that it does all it can to keep its customers, and more importantly its customer's data perfectly safe. LionsBet has a thoroughly decent Privacy Policy that should really go a long way to reassure you of your online safety here. The site says that it uses an SSL Web Server Certificate in order to encrypt all data that passes to and from the site. You can rest assured that your online safety at LionsBet is taken care of completely.
Bonus Offers

As well as that welcome offer LionsBet has a number of deals that should really interest any sports betting fan looking for a site that has a number of deals and promotions.
Like most betting sites in Nigeria, LionsBet offers an acca bonus, although unlike most sites the bonus begins with only three selections! The only rule is that every event within your acca must have minimum odds of at least 1.2. If you succeed with your acca then your winnings are given an extra cash boost, which is pretty cool! The more selections your acca has, the bigger the boost!
If you are a regular user then you may receive an extra bonus. If you make enough qualifying bets during the week then you may receive a free bet, awarded to you by the sports book. Free bets must be used within the week and on events with minimum odds of 1.3. The more you wager at LionsBet, the bigger the free bet that you will receive!
During your betting career, you will amass loyalty points. Every bet of at least NGN 100 that you make on any event with minimum odds of 1.2 will award you one loyalty point, which is worth one naira. Once you have reached a minimum total of 1,000 loyalty points you can exchange them for real cash!
How to Register and Create an Account at LionsBet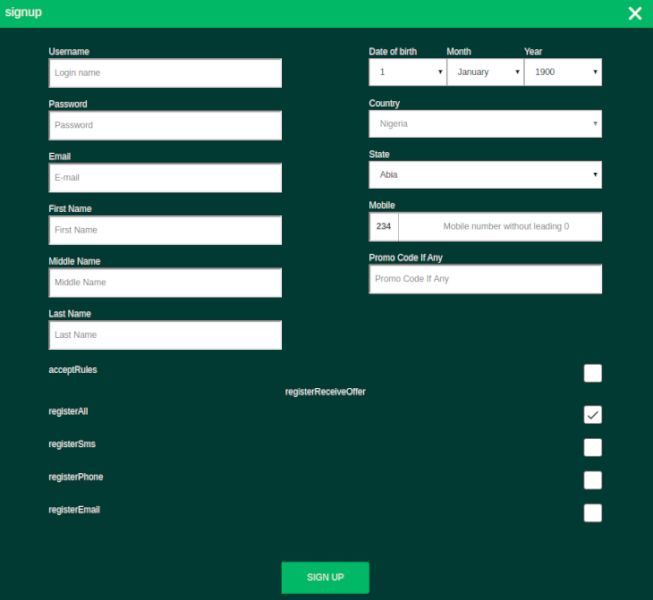 Creating your account at LionsBet really is super-simple. All you need to do is as follows:
Go to the LionsBet official website and click on the yellow 'Register' button in the top right-hand corner of the landing page
On the form that pops up, fill in your chosen username, your chosen password, your first name, your last name, your date of birth, your country of residence, your state of residence, your chosen currency, your mobile number, and your email
Click on the boxes to confirm that you are over 18 and that you agree to the site's T&Cs
Click the 'Sign Up' button
That's it! You are now a fully registered member of the LionsBet sports betting site and once you have confirmed your account, you are free to start sports betting.
LionsBet is more than a Betting site: Virtual Sports and Games

If you want to take a break from real-world sports betting and try your hand at an alternative, you can do at LionsBet without ever leaving the site. There's virtual sports action and games here too.
The virtual sports action takes place across two site sections, 'Kiron Virtuals' and 'Virtual Sports'. The first section has three options – football, greyhounds and 'Dashing Derby' (horse racing). New events at each begin every three minutes or so, so you need to get your virtual bets in quickly.
At 'Virtual Sports' you will find even more options, while the 'Games' section turns out to be something of a misnomer, as it is simply a gateway to even more virtual sports! Here you will discover a number of software-based virtual sports all created by the online wagering company 1×2 Gaming. There are four football games (Europa League, African Cup, Champions and Euros 2016) plus one rugby game.
Also within the 'Games' section, you'll find more horse racing, greyhounds, speedway, velodrome (cycling) and tennis. If you come to the 'Games' section excepting casino games such as video slots, blackjack and roulette, then you are likely to leave this site feeling a little disappointed!
How to Deposit and Withdraw at LionsBet

Moving money into sports betting accounts can be an issue for sports bettors in Nigeria, so it's a good job that LionsBet has made so many options available to its site users. Here are a few of the most popular options:
Paystack –you can deposit between NGN 50 and NGN 1,000,000 using a Paystack card deposit, or a Paystack bank deposit. LionsBet accepts bank deposits via this method for most of the leading banks in Nigeria.
Webpay –you can use WebPay Nigeria if you have an Interswitch, Verve, Visa or MasterCard banking card.
Quickteller –Quickteller is an option for LionsBet customers at most ATMs in the country. Just follow the prompts as if you were paying a bill to put money into your LionsBet account. You can also use Quickteller online if you can easily connect to the internet.
Paydirect –Paydirect is another depositing option for Nigerians, which you can use to fund LionsBet deposits.
Scratch Card –If you purchase a Scratch Card voucher, then you can use it to get money into your account.
Those are five ways to get money into your LionsBet account, but there is only one way in which you can get money out of your sports book account here, and that is by using your bank account details. The minimum you can request to withdraw is NGN 1,000, and the maximum is NGN 500,000. There are no fees involved when you request a withdraw, and withdrawals are processed within minutes!
Mobile App for Android or iPhone

More and more people in Nigeria are accessing the internet now by mobile phone, so any sports book that's worth dealing with in the country requires to make sure that the needs of players who prefer to bet using their mobile phones are well taken care of.
This is one factor, though, where LionsBet lets itself down a bit. There are no mobile apps for site users to download, for example, and there's is very little information at the site regarding the use of the sports book for mobile players.
If you do attempt to use this sports book for mobile wagering, then you will be taken to a site that is specially-optimised for mobile play. This site can be accessed via any browser and will work no matter if your operating system is iOS or Android.
Frequently Asked Questions
Q. How does LionsBet work?
LionsBet is a software-based, fully automatic online sports site that has proper licensing and uses encryption to transfer data to and from its customers. Bets are placed by customers using a software layer that serves as an interface to the sports book. This interface can be used via desktop or mobile. Bets are accepted and processed automatically, although a human support team is on hand at all times to help support site customers.
Q. Which sports and events are offered for betting by LionsBet?
The main emphasis at LionsBet is on football/soccer. All major football competitions from all over the globe are represented, with all markets for the leading leagues in Europe including the EPL, La Liga, Serie A, Ligue One and the Bundesliga covered. The Nigerian Premier League is covered too.
The other sports readily available are basketball, tennis, ice hockey, handball, volleyball, eSports, baseball, golf, sailing, boxing, motorsports, American football, Cycling, table tennis, rugby, Aussie rules, snooker, darts, beach volleyball, pesapallo, cricket and winter sports.
Q. How do you place a bet at LionsBet?
The first step in arranging a bet at LionsBet is to access the site and find the event that you are interested in. A range of betting options will then be displayed to you, with the odds for each outcome marked. To bet, click on the odds of the outcome that you want to wager upon. The bet will then be transferred to your bet slip.
If you want to bet on a double, triple or acca, then you can add more bets to your slip. If you want to bet on a single, just enter your stake then click 'Place Bet', or enter your stake and click 'Place Bet' when arranging an acca and you have added all your selections to your slip.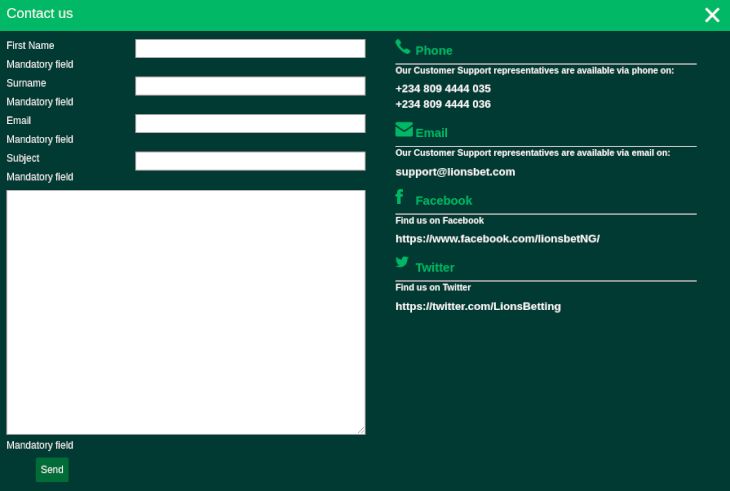 You will receive confirmation that your bet has been placed.
Pros and Cons
Pros
Plenty of bonus offers
Live betting options
Super-speedy payout times
Cons
Not enough information for mobile sports bettors
Site looks a little basic
Overall Rating of LionsBet
As a thoroughly decent sports betting site, you can't really criticise LionsBet. True, it doesn't have the same levels of raze-a-ma-tazz as some of its rivals including Bet9ja and NariaBet, but what LionsBet does, it does very well indeed.
Having said that, we would have liked to have seen a little more information placed available at the site for those who prefer to bet using their mobile phones. Other than that, we can think of very little to criticise LionsBet about.
Why not join the "Kings' Arena" and open your sports betting account with LionsBet today?